Viewing Coastal Images Inc. Delaware Web Site Design & Development Project:
E-Studio Eight Photography Web Site.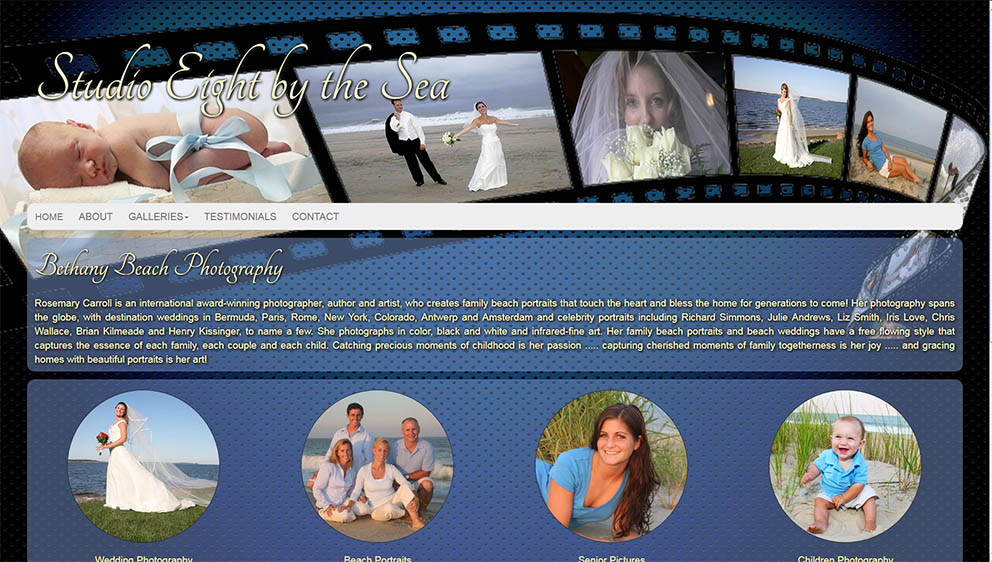 Rosemary Carroll is an international award-winning photographer, author and artist, who creates family beach portraits that touch the heart and bless the home for generations to come! Her photography spans the globe, with destination weddings in Bermuda, Paris, Rome, New York, Colorado, Antwerp and Amsterdam and celebrity portraits including Richard Simmons, Julie Andrews, Liz Smith, Iris Love, Chris Wallace, Brian Kilmeade and Henry Kissinger, to name a few. She photographs in color, black and white and infrared-fine art. Her family beach portraits and beach weddings have a free flowing style that captures the essence of each family, each couple and each child. Catching precious moments of childhood is her passion ..... capturing cherished moments of family togetherness is her joy. . . . and gracing homes with beautiful portraits is her art!