Delaware Responsive Mobile Ready Web Site Design
One Web Site - One Site Design - All Platforms
Responsive Mobile Ready Web Site Design & Application Development - A Better Idea!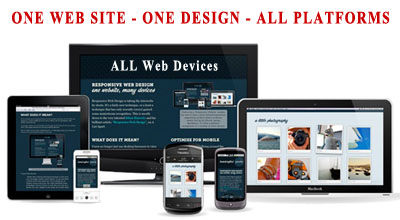 There has been a long-running conflict over the Mobile Web & Mobile Web Design. The big question: "Is there a Mobile Web?" That is, is the mobile device so fundamentally different that you should make a different website specifically for it, or is there only one Web that we access using a variety of different devices?
For years since the increased use of mobile devices accessing the internet, businesses have been forced to maintain two or more separate web sites for their business in order to accommodate mobile device users: one for desktops & laptops and one or more completely different web sites for mobile devices, iPads & tablets. From an economic standpoint for the small business entrepreneur this situation is just not a common sense approach to an internet presence, is time consuming and costly. If your not accommodating your mobile device users your losing at least 25% PLUS of your traffic and this is rising daily.
" Over 65% of internet traffic is now going over mobile devices." - Forbes
" 71% of enterprises are looking to or are actively deploying mobile apps." - Symantec
Businesses have had to adapt to an ever changing world of technology, creating a business cycle like never seen before. Adapting to new technologies and processes like new operating systems, the Internet marketing, and now mobile computing is the only way to not only stay viable but grow. Mobile use around the world is expanding exponentially, which means that for businesses wanting to stay viable, going mobile is much less an option than it is a requirement.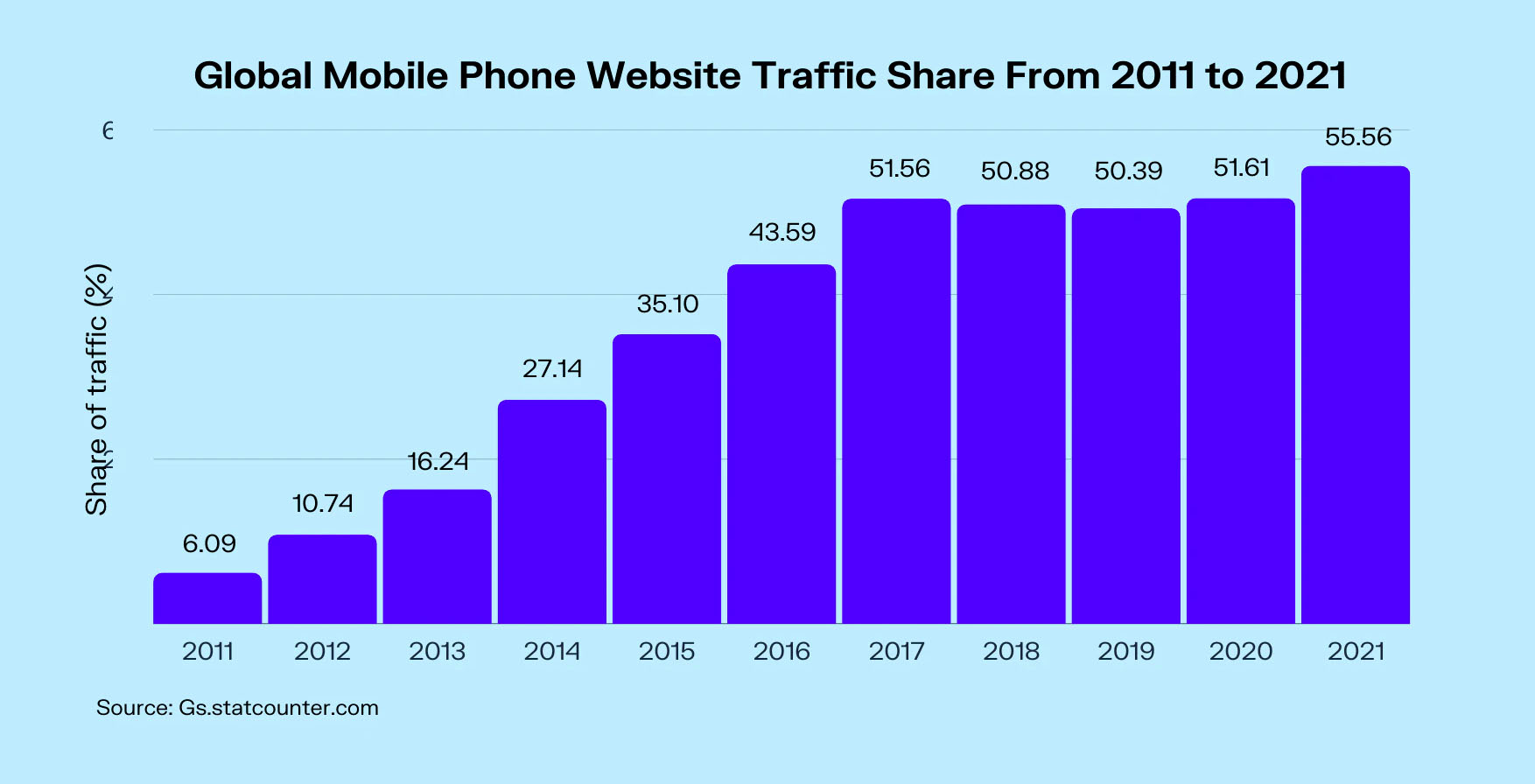 The last few years have seen dramatic changes in the mobile device platform landscape. The use of mobile devices has been increasing by over 150% per year (chart on right) according to StatCounter Global Stats and likely to increase exponentially in the future. It has become imperative for businesses to embrace this trend and adjust their online presence to accommodate this change in technology. New user interface paradigms have emerged, with screen resolutions and processors becoming as advanced as desktop computers, and input mechanisms have been revolutionized. This presents an even greater problem for those that wish to deploy a user friendly and affordable web site solution without having to resort to maintaining multiple web sites for the many different devices.
There is a better idea!
Luckily, we now have the tools to solve this dilemma: Responsive web design!
One web site, one web site design, all platforms!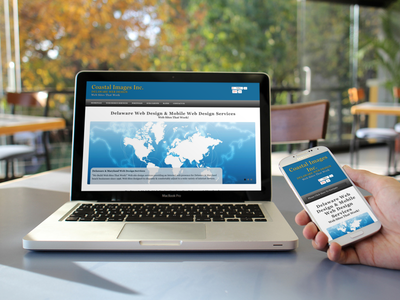 When your web site application is built using Responsive Mobile Ready Web Design (RWD) technology it eliminates the need to maintain separate web sites to accommodate mobile web devices along with your regular web site for desktop viewers. One web site can be accessed by a multitude of internet devices which elegantly adjusts to the view-port or screen size of their device.
Using the magic of HTML5, CSS3 and JQuery technology we build mobile friendly fully Responsive Web Sites designed to elegantly & comfortably adjust to a wide variety of internet devices for easy reading and navigation with a minimum of resizing, panning, and scrolling. This includes devices such as desktops and mobile web devices, Smart Phones, iPhones, Android Phones, Kindle, iPads, laptops & tablets.
Recent Web Development Projects!
A collection of our most recent Responsive Mobile Ready Delaware Web Design Projects: