Viewing Coastal Images Inc. Delaware Web Site Design & Development Project:
Graves Uniforms Web Site.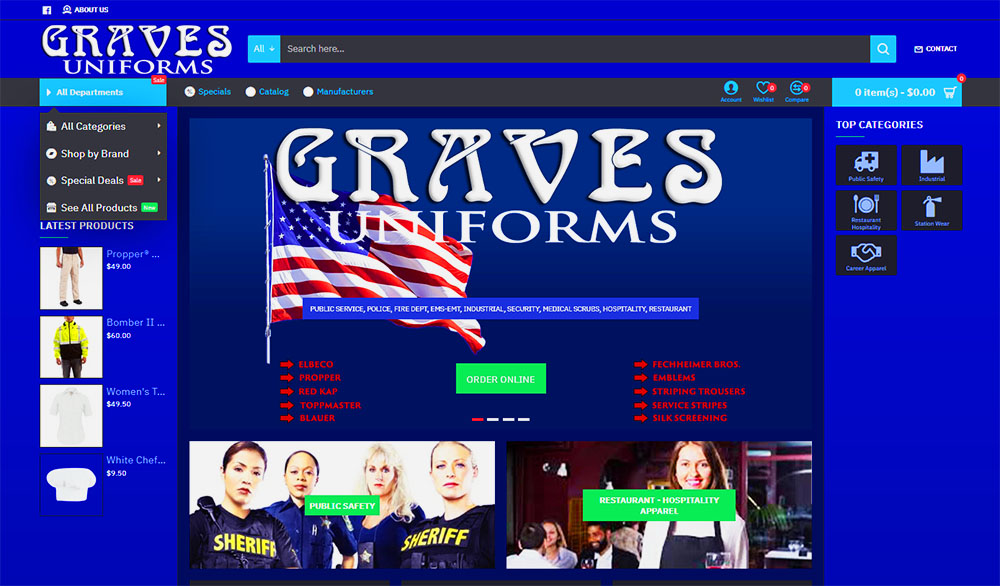 Coastal Images Inc. is pleased to announce the deployment of a new eCommerce web site with shopping cart for GRAVES UNIFORMS! We have put together some of the finest features to be found in an eCommerce shopping cart platform to ease shoppers experience, detailed product search and product display for shoppers, point of purchase options on every display, product comparison charts, bookmark wish lists, and secure one page checkout automated credit card processing. Graves Uniforms was founded to meet the needs of local public safety personnel. Located in historic Lewes, Delaware, Graves Uniforms has grown to offer a wide variety of uniform needs. From our roots in the public safety field, Fire Department uniforms, EMS & EMT Uniforms, Police, Security Uniforms we have expanded our offerings to include a wide variety of work clothing, medical scrubs, and restaurant/hospitality apparel. Graves Uniforms carries many well known brands of uniforms and accessories on stock, including Fechheimer Bros, Elbeco, Red Kap Industries, Toppmaster, Blauer, Dickies, Propper plus many, many more. Unlike many of competitors, Graves Uniforms is a full service uniform dealer offering such services as striping trousers, applying emblems and service stripes, hemming trousers, embroidery and silk screening, virtually anything you need to obtain that "professional" image you want.